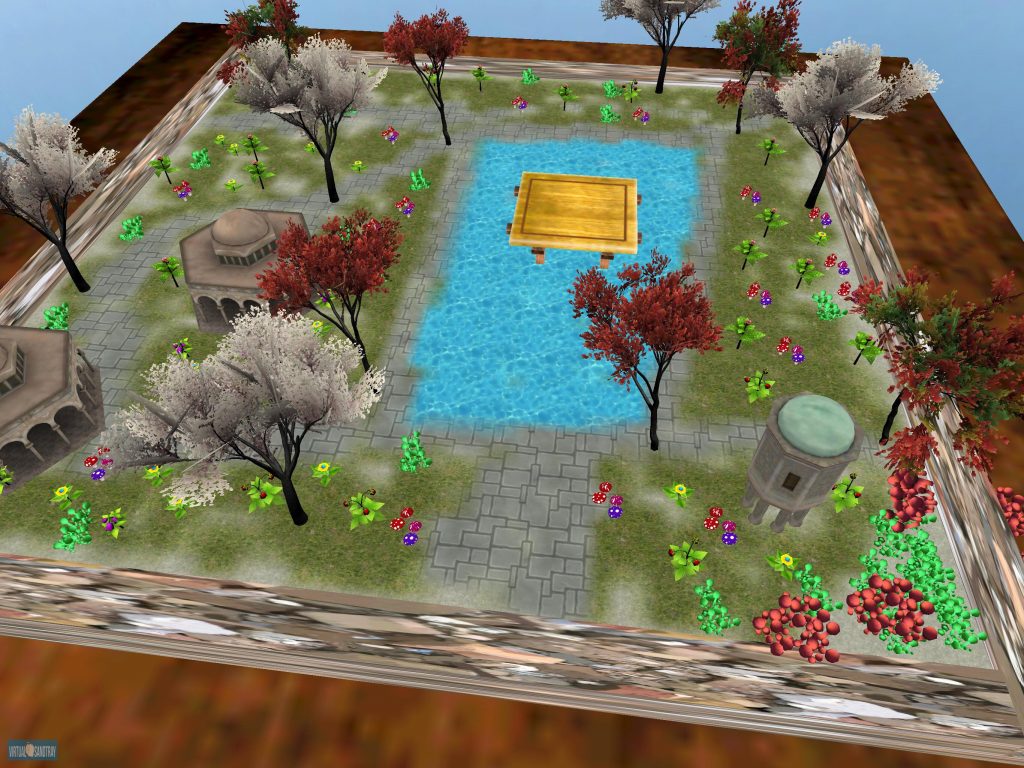 With an inception year of 2011, the Virtual Sandtray App (VSA) has had years of work, testing, consulting, and development put into it. Originally borne out of necessity after the 2011 Tsunami in Japan, the VSA launched publicly in 2015. Special and specific attention to detail has culminated in a therapeutic tool which focuses on 1) the therapeutic tenets of sand work 2) confidentiality, security, and encryption and 3) an immersive, expressive, creative experience for the user. Additionally, the Virtual Sandtray has a focus on accessibility for people who might not otherwise be able to utilize the traditional due to physical and/or motor differences, or sensory concerns. Specific features addressing these accessibility aspects are included in the initial download of the VSA and available to all.
The Virtual Sandtray App is an exciting way to connect, create, save, load, and share sandtrays with your clients, patients, students, supervisors and during trainings – wherever you may be. With the Virtual Sandtray App you can go above and beyond what is possible in a traditional tray. This app is not a game, rather it is a professional tool designed to enhance and expand a traditional method to new heights and possibilities. For the purpose of this blog, a professional working with a client or patient will be referred to as a "specialist". This implies a level of training and experience commensurate with the field the professional works within.
What is Sandtray Therapy?
"Sandtray therapy is an expressive and projective mode of psychotherapy involving the unfolding and processing of intra- and interpersonal issues through the use of specific sandtray materials as a nonverbal medium of communication, led by the client(s) and facilitated by a trained therapist."

(Homeyer & Sweeney, 2011)
Traditionally a specialist has a box with sand in it and many miniatures available to be chosen by the client and placed in the sand. Some features of sandtray therapy vary with the approach and foundation of the specialist, however, in general the items are placed by the client into the sand depicting a representation of his/her world view, experiences, and/or difficulties. At times there is a verbal story to complement the tray and at times there is not. A specialist's primary job is to understand trays via this "nonverbal medium of communication" in a way that assists the person through the issues affecting his/her life.
How Does The Virtual Sandtray App Meet the Needs of The Client in a Digital Way?
Margaret Lowenfeld was an early play therapist who spoke of working with children in a non verbal way. Sandplay therapy was a specialty of hers and she is well known for her amazing work. Lowenfeld's World Technique (1979) is still used today. Whichever technique a specialist uses with the sandtray, certain aspects remain crucial.
"I set for myself as a goal to work out an apparatus which would put into the child's hand a means of directly expressing his ideas and emotions, one which would allow of the recording of his creations and of abstracting them for study."

(Lowenfeld, 1979)
The Virtual Sandtray App is a way of meeting many of the traditional needs of therapy with a sandtray and expanding it's use in new ways that were previously impossible. With this app a client can have in his/her hands an apparatus to allow for direct expression of ideas and emotions and it literally has the ability to record them for study. A client can create a tray which includes digging, painting, placing and manipulating models, saving, loading, sharing (encrypted files), taking still screenshot photos, and taking video of the process as desired.
With a deep respect for the various theoretical modalities of working with a sandtray, The Virtual Sandtray App's focus will remain on the key aspects of the therapeutic value of this time honored tool. For instance, the key aspects of Sandtray therapy include a "dynamic interpersonal relationship", an emphasis of promoting "play and relationship", and the Sandtray therapist "facilitates rather than choreographs the process" (Homeyer & Sweeney, 2011). Each of these can be achieved with the Virtual Sandtray App.
In response to this fundamental importance, Virtual Sandtray is proud to announce a partnership with The Lowenfeld Trust as of early 2021. Please visit their website for more information about this fantastic organization: https://lowenfeld.org/
COVID
In response to COVID and the rapid adoption of telehealth, VSA created a remote feature. This allows the therapist to use the VSA in multiple ways: 1) via one's telehealth platform – be sure you can share an iPad screen. This modality allows for a more directive approach where the client is telling the therapist where to place the items, etc., and 2) via our remote feature where the therapist device connects via encrypted means with the client device for the client to create the tray while the therapist witnesses. The therapist can also contribute to the tray.
Jessica Stone, Ph.D., RPT-S
How to find out more: