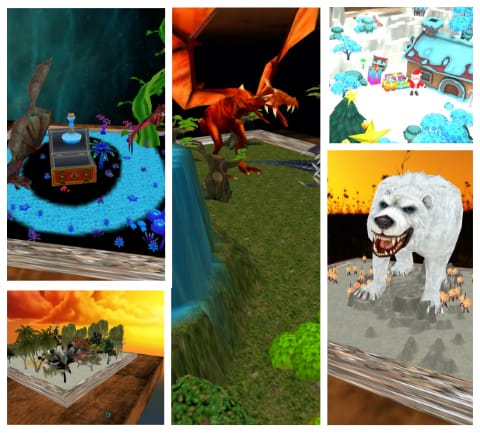 Express & Explore with the Virtual Sandtray App
The Virtual Sandtray App (VSA) harnesses the power of sand therapies and formats it into a cleanable, portable, saveable, digital medium. This powerful tool enhances physical play spaces for those who are unable or unwilling to access a traditional tray. This is a fantastic tool for offices, agencies, schools, hospitals, crisis environments, telehealth, and more.
As a registered play therapist since 1995, a supervisor, and psychologist, the preservation of the tenets of sand work has been of utmost importance and has guided every step of our process. Now used around the globe, we invite you to boost your play therapy tools and provide the Virtual Sandtray for your clients.
Virtual Sandtray App Features
Dig down to a liquid layer, build up the sand, paint the sand
Over 7,000 3D models to place, resize, rotate, levitate, and more
Confidentiality and encryptions built in for a secure experience
Save trays for future work
Screenshots and video clips can be saved, and easily transferred to your electronic health records
Trays can be created with the hands for a kinesthetic creation experience
Supervision and teaching features are included
Tele-health remote features
iPad or iPhone compatible; expansions coming soon for clients to access the VSA in additional ways
We have responded to COVID and tele-health needs by providing two ways to use the program remotely: 1) via one's screen sharing feature through their tele-health platform and 2) a remote feature which connects and allows the client access to the program during session only, thereby preserving the therapeutic process.
Testimonials
"The Virtual Sand Tray app is a true innovation in our industry. When I first left it sitting in my playroom youth were a bit in awe that it was available for them! Once they picked it up they quickly jumped into creating amazing trays."
Leslie Baker, LMFT, RPT-S
"I like the Virtual Sandtray because I can make things that I want to. It is not hard to use your hands to make things. It is a good activity for kids but it is good for your mind because you imagine what you want to build and you can do it. I feel proud of what I have built."
- 8 year old
"As someone who loves traditional sandtray but is limited by portability issues in traveling to multiple schools, this is an incredible resource. It hooks in the tech/gamer kids in a format that they are comfortable with but also appeals to the non-gamers as well. A lot of thought was put into the design of this to really create a virtual experience in a meaningful way. Definitely recommend this to any mental health professional who uses sandtray as a therapeutic tool."
- Dickinson Saw